[ what we offer ]
Wood floor finishes
Oil-modified finishes are petroleum based with a blend of synthetic resins, plasticizers and other film-forming ingredients that produce a durable, moisture-resistant surface coating. These finishes are available in different sheen levels.
Some oil-modified finish manufacturers have developed products and packaging methods to be compliant with current Volatile Organic Compounds laws. Oil-modified VOC-compliant finish formulations may take longer to dry.
These finishes are a blend of synthetic resins, plasticizers and other film-forming ingredients that produce a durable surface that is moisture-resistant. These finishes are available in different gloss levels.
There are both one- and two- component waterborne finishes. While single-component finishes are ready to use right out of the container, two- component waterborne finishes need to have catalysts or a "cross linker" mixed into them on the job site. Cross linkers should be for professional use only.
We would like to proudly introduce the new line of commercial finishes for Last-n-Last.
superior added protection
The LNL-1500 Commercial Wood Floor Finish incorporates superior added protection with Aluminum Oxide, Microban® antimicrobial protection, and UV absorbers in a single component non-yellowing urethane finish. The proven durability of LNL-1500 is even backed by a 15-Year Residential Wear Warranty. Advanced waterborne formula is friendlier to the environment and features low odor, fast dry time and easy cleanup. LNL-1500 is the ultimate choice for the professional and homeowners. To register your Warranty click HERE.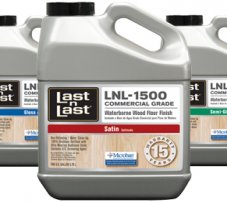 Moisture-cure urethanes cure by absorbing minute quantities of moisture from the air, which causes them to dry and harden. Relative humidity is critical to the curing process. These finishes are moisture-resistant and durable. These finishes may be difficult to apply properly, and are best left to wood flooring professionals.
Because of their national origin, conversion varnish finishes are often referred to as Swedish finishes. (Some water-based urethane manufacturers also call their products "Swedish" because of their origin). Conversion varnish finishes (until recently, referred to as "acid cure" finishes) are durable and moisture resistant. Conversion varnish finishes may be difficult to apply properly and should be applied only by a wood flooring professional.
Wax – wax is one of the oldest floor finishes. It is applied in thin coats, typically following the application of a sealer and/or stain, and then buffed. Periodic re-waxing is necessary when buffing doesn't restore shine. Because liquids leave spots on wax finishes, wax is not ideal for applications such as kitchens. Wax is, however, one of the easiest finishes to topically mend. One of the most common problems with wax is people's tendency to recoat the entire floor without treating damaged areas separately. This leads to unnecessary wax build-up, while leaving the damaged area still looking worn.
Shellac – shellac is not recommended for use as floor finish but is used occasionally to match old finish. Shellac may be coated with wax.